The theme of migration got me thinking - what does it mean to "belong"? What if your 'home' isn't enough to nurture you, and the relationships that complete you lay a world away?
What if the only place you wanted to belong, was also a place where you had to pretend to be someone, or something, you weren't? Why is geography relevant – can a sense of belonging not be just as strong in a community that is nomadic? Communities themselves are dynamic - what happens to one's sense of place when everything around you is changing,
when you are static but your home isn't ? Must a person necessarily feel rooted – can't she
feel
just at home in ten different
communities as she does in one?
Must one even need community – what of the soul that is happiest on its own? And what does home even mean to the homeless child?
Here's my pick of books that variously examine the idea of home, and the complex emotion that is belonging. Some are playful and cheery, some more sombre. But all of them made me stop and think.
Lost and Found
Written and Illustrated by Oliver Jeffers
Publisher: Philomel Books
Ages: 3 and above
Home, Oliver Jeffers, suggests, is wherever the love is. Judging by the reception of this book (previously reviewed
here
), a bajillion people across the world agree.
Enough said.
I Have a Home
Written and Illustrated by Claudia Legnazzi
Publisher: Katha Books (Indian imprint)
Ages: 3 and above
According to Claudia Legnazzi, home
is wherever you
are. The
narrator of this dazzling book is truly a global soul, reveling equally in the isolation of strange new terrain and the (slightly reproving) embrace of other town houses. Through bizarre, utterly fantastic collages, we follow the house on its journeys through the sky, underwater, across desolate landscapes. Sometimes it hitches a ride atop giant motorcars, sometimes it communes with gigantic sea turtles. Sometimes it rests in trees and on wispy cottonwool clouds, and sometimes it chases striped giraffe on enormous war machines. Everywhere, it emphatically assures us, you can feel right at home.
Window
Written and Illustrated by Jeannie Baker
Publisher: Walker books
All ages
Sometimes homes change around you, whether you like it or not. Jeannie Baker's wordless masterpiece traces the slow change of a woodland as seen through the frame of one little boy's window. As the boy grows, so does the human habitation around him, irretrievably changing the environment. Each page is a stunning collage, painstakingly pieced together with a variety of materials, and conveying a wealth of information.
Belonging
Written and Illustrated by Jeannie Baker
Publisher: Walker books
All ages
The quiet sadness of Window is balanced out by the message of Belonging, published several years later. Again using the frame of a window (this time that of a little city girl), the book wordlessly follows an urban neighbourhood, first through slow decay, and then renewal, as each member of the community begins contributing to improving the environment. Where Window leaves us sad and wistful, Belonging (also titled Home in some editions) offers up a message of hope, and emphasizes the importance of small, individual commitments in building larger, nurturing environments.
The Lost Thing
Written and Illustrated by Shaun Tan
Publisher: Lothian Children's Books
Ages: 5 and above
Sometimes, home is the place you can't escape.
In "The Lost Thing"(reviewed for ST
here
), a boy finds a stranded
alien and tries to help it get back home. They navigate a bleak city filled with aloof adults and symbols of authority,
on the trail of an elusive sign.
Just as you wonder if the cheerful alien (a cheery, rotund red figure in a sea of washed out machines
and sullen humans) is trapped for life.. a door opens.
For me, this book was less about the alien or the quest than it was about the boy's own surroundings, his obvious loneliness, and the stark contrast between his world and the sunny, fun filled land his alien friend escapes to.
On the last page, as he stands alone at a street crossing,
wistfully looking back on the memory of that
day,
you have to ask – Who's
really the lost thing here?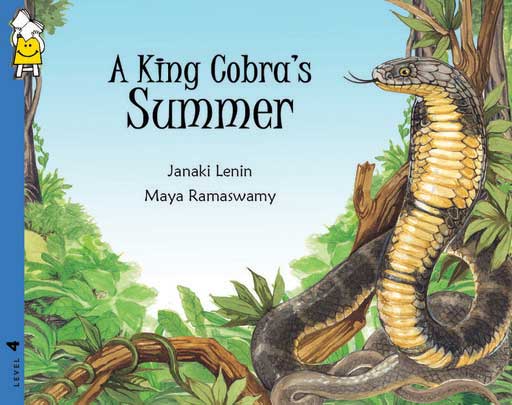 A King Cobra's Summer
Written by Janaki Lenin
Illustrated by Maya Ramaswamy
Publisher: Pratham Books
Ages: 8 and above
Kaala, our eponymous hero, sneaks into a farmer's house and is captured. He is then freed into a dense forest that is unfamiliar to him. Far from home, unaware of the dangers lurking around him, Kaala begins a perilous journey in search of safety and companionship.
King Cobra..
, with its deft mix of facts and fiction (and the luscious watercolour illustration that is Maya Ramaswamy's trademark) , almost humanizes the king cobra, an animal as feared as it is revered in India .
Widget
Written by : Lyn Rossiter McFarland
Illustrated by: Jim McFarland
Ages : 3-6 years
Widget is a homeless dog, who really wants to live with a friendly old lady. Trouble is, her six cats ("the girls") can't stand dogs. So Widget pretends to be a cat, gets assimilated into the family, and almost forgets his true self.
But then
trouble strikes, and only his "dogliness" can save the da
y. Widget
is charming, with lively illustrations and lots of humour, and a positive message about being proud of who you are. You can't, however,
ignore Widget's desperate attemps to fit in..
Fly Away Home
Written by: Eve Bunting
Illustrated by : Ronald Himler
Publisher: HMH Books
Ages: 4 -8 years
Eve Bunting sensitively addresses homelessness, in this story of a boy living with his father in an airport, where the man is employed. The boy wistfully hopes to escape one day, and find a real home for him and his father.
He likens himself to a bird struggling against a pane of glass, before it finds an opening to fly away through.
The book is touching, and memorable for its subtle treatment of the boy's sadness, and the quiet hope he holds onto, of flying out to his own nest someday.
A Shelter in Our Car
Written by: Monica Gunning
Illustrated by: Elaine Pedlar
Publisher: Children's Book Press
Ages : 6 and above
The stark life of the homeless child is examined again in this story about a young Jamaican immigrant and her mother, forced to live in a car on the streets of an American city. Again, a brief ray of hope shines on them at the end, suggesting they will one day find a better life. Elaine Pedlar's drawings are haunting, with their bold lines and bright colours.
Written and Illustrated by: Yaoume Landowne
Publisher: Cinco Puntos Press
Ages: 6 and above
Perhaps the grimmest children's book I have read in a while, Selavi follows the life of a Haitian child who loses his parents and is forced to live on the streets of Port-au-Prince.. He meets friends (other children) and survives foes (unreliable adults) before finding shelter and the promise of a better life. This book is based on real life incidents and people, and is memorable as much for its beautiful artwork aas the way it introduces young readers to concepts like poverty and social injustice.