How do you explain death to a child? And how do you help them deal with the pain and grief that follows the loss of a loved one? Here are a handful of books that take very different approaches to the idea of death and coming to terms with loss.
The Heart and the Bottle
Written and Illustrated by Oliver Jeffers
Publisher: Harper Collins Children's Books
Ages: All
I've loved every one of Jeffers' books till date, and this one bowled me over too. The Heart.. is about a little girl, filled with curiosity and a love for exploring the world around her. When the elderly relative she is attached to, dies, she deals with her grief by putting her heart in a bottle. It takes the pain away, but also her curiosity, her sense of wonder , her love for learning. She grows into adulthood this way, feeling nothing but the growing weight of the bottle around her neck. Until one day, she meets a little girl much like the one she used to be, who nudges her awake. But is it too late - will her heart ever be free of its bottle? With just a handful of words, and delightful minimalist spreads, Jeffers gives us a story about the healing powers of love and hope. For me, it was also a book about the importance of feeling grief, learning to deal with it - and the redemptive, utterly lifesaving powers of parenthood as well.
Always and Forever
Written by Alan Durant
Illustrated by Debi Gliori
Publisher: Doubleday
Ages: 3+
If only someone had given this book to the little girl from The Heart and the Bottle !
Fox, Otter, Mole and Hare share a house in the woods, with Fox as the gentle paterfamilias. But then he falls ill, and passes on. Otter, Mole and Hare are heartbroken; they recede into their grief and as winter approaches, the little house is gripped by silence and sadness. Then Squirrel pays a visit and somehow, the conversation turns to all the funny things Fox used to do. As they three housemates laugh together for the first time in ages, they find their grief lift, replaced by warm memories of the friend they have lost, and think up ways to keep him alive in their memories – a special garden in his honour, a bench in his favourite spot, a pie he loved. A lovely book about hope and the light at the end of the tunnel that is heartbreak, all brought to life through Debi Gliori's wonderful watercolours.
The Sad Book
Written by Michael Rosen
Illustrated by Quentin Blake
Publisher: Candlewick Press
Ages: All
Written by Michael Rosen after the death of his teenaged son, The Sad Book is devastating in its siply-worded portrayal of grief. Rosen honestly opens up about his suffering, about the things he does when sadness strikes, the anger that engulfs him, the brave face he must sometimes fake so people will not pity him.
"
Sometimes I'm sad and I don't know why.", says Rosen.
It's just a cloud that comes along and covers me up." I liked the way the book affirms the need to grieve, even as people around you tell you to 'put a brave face on it'. Grief, he adds, does not go away. You can never really be free from the loss you have suffered. "Sad is anywhere", says Rosen."

It comes along and finds you."
His sorrow is reflected in Quentin Blake's bleak pen and ink illustrations, and it is hard not to be moved by the poet's words. And yet, by the end - and what a lovely, unexpected end it is! - even Rosen discovers hope.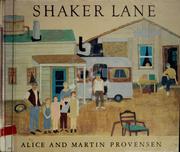 Shaker Lane
Written and Illustrated by Alice and Martin Provensen
Publisher: Viking Kestrel
Ages: 6+
Shaker Lane isn't about the death of a person, but something even greater and, therefore, sadder – it chronicles the slow demise of a community. Considered one of the Provensen's finest books, it is based on a real life community near the area the book's creators lived in, one they watched change over thirty five years. At first, second and even third glance, Shaker Lane really doesn't impress- its residents are dirt poor, their houses are shabby, the yards strewn with rubbish, mangy dogs and weeds. "Aker, baker, poorhouse shaker!" yell the kids from the passing schoolbus. It doesn't even mean much to the rest of the town. But then, one by one, the book introduces us to its residents – old Mr. Van Sloop and his army of stray dogs; the Whipple twins who help out with yard work; Big Jake, the handyman; the kids, dogs, pet ducks. And just like that, you see the quiet heart that beats under Shaker Lane's shabby hand-me-down skin. It's also, sadly, a heart without much of a fight left in it – when the city council takes over the land to build a reservoir, the residents quietly give up their ramshackle houses and their lives and move away. Time moves on; water, progress and middleclass suburbia move into the place that was once Shaker Lane. And you wouldn't know the place, except…
Spare text, beautiful spreads and with a surprise ending I didn't see coming,
Shaker Lane
is a wonderful book about change, loss, new beginnings – and resilience as well. Read this in tandem with
Window
and
Belonging
, Jeannie Baker's
stunning wordless chronicles
about changing communities.